-----
Such amazing stories that I thought this really deserved its own thread... :p
BearBackerinLA said:

---

http://www.ocregister.com/articles/mclaughlin-720519-trials-butterfly.html

---
Due to accident, Katie McLaughlin enters U.S. Olympic Swimming Trials as an underdog
The rising U.S. national team swimmer fractured two vertebrae in her lower neck during a beach accident in January.
McLaughlin injured her neck diving into the ocean while on a training trip to Hawaii with her teammates at Cal. The college freshman said her head hit the sand, a jolt that fractured her C6 and C7 vertebrae. The injury threatened her participation at the Trials and her quality of life.
"It could have been a lot worse," she said at the Speedo Grand Challenge last month in Irvine. "(With) any neck injury, you can have surgery or even be paralyzed. I got really lucky to be able to walk away from my accident."
The injury spun McLaughlin from Orange County's strongest Olympic contender in swimming to an underdog in the eyes of prognosticators.
(Against all odds, Katie showed true grit in earning finals swims in the 200 fly (6th), and in the 200 free (8th) @ 2016 OTs! In fact, McL's 200 fly PB of 2:06.95 from 2015 Worlds (which she actually was on track to handily smash if it hadn't been for the neck injury), would have earned her a Rio berth just behind Camille Adams' winning 2:06.80 @ Trials - 2nd place Hali Flickinger's time was more than half a sec slower, at 2:07.50!)
UrsusArctosCalifornicus said:

---

Amy's achievements @ OTs are even more remarkable & laudable in light of the following revelations :acclaim:

Mysterious ailment could've cost [U]Amy Bilquist[/U] more than just an Olympic spot



Her father, Brent Bilquist, said warnings from doctors were dire:

"We may have findings that your daughter is dying."

Bilquist said she didn't want others "to look at me with sad puppy eyes" before the trials, so she did not divulge her condition publicly until afterward.

"I just wanted to go in as a competitor and see what I could do," she said. "Not giving myself an out."

Last summer, she was recovering from stress fractures two in her left leg, one in her right that had long impaired her. In practice, she could swim but not push off walls. She was told the bones wouldn't heal unless she did not swim at all for six to 12 months

That was not as frightening as abdominal pain. The condition was acute in the weeks between February's Pac-12 Conference meet and March's NCAA Championships, and again after NCAAs.

"I never really felt anything like that in my life," Bilquist said. "I couldn't sit up. I couldn't roll over in bed. I couldn't do anything on my own."

She once felt so sick that she called Uber in the middle of the night so she could be transported to a hospital. She was in and out of hospitals from March through mid-May.

Bilquist, at 18, would have been the youngest swimmer on the Olympic team. In a study published by SwimSwam.com, she had the second-biggest improvement of all those at the trials, calculated by percentage cut from seed time.


http://www.indystar.com/story/sports/2016/07/13/mysterious-ailment-couldve-cost-amy-bilquist-more-than-just-olympic-spot/87025368/


(Amy sooo narrowly missed making the Rio Olympic Team @ Trials, coming in 3rd behind Kathleen by a mere 0.08 sec in the 100 back (good for 8th fastest in the world at the time), and 4th in the 200 back!)


---
UrsusArctosCalifornicus said:

---


Swimmer Kathleen Baker Overcomes Crohn's Disease to Become an Olympian



For Baker, one of about 700,000 Americans who have Crohn's disease, the answer could fill a 70-page spiral notebook, and it is not as easy as WebMD. How does one begin to explain the physical and psychosocial challenges of living with a disease a chronic, recalcitrant gastrointestinal inflammation that can be embarrassing to talk about? How could she describe the medications that can lose their efficacy over time, or a fatigue so fathomless it can sap your will?

Baker, 19, has fought to prevent her health challenges from defining her. Talking for the first time about her condition, she said: "I found doctors who weren't going to be just like, 'You're Kathleen with Crohn's disease.' I need to be Kathleen the swimmer with Crohn's disease."

Baker, who was born and raised in Winston-Salem, N.C., can remember clearly when she started feeling poorly. It was February 2010, the same weekend she set her first two national age-group records, shortly before her 13th birthday.

Her parents, Norris and Kimberley, sat down with her that night to discuss the disease. By then, she had typed "Crohn's" into an internet search and had read what she called "horrible stories" about people having to have their intestines cut out.

"It was the worst feeling in the world," she said, pausing to wipe away tears. "I love swimming more than anything in the entire world, and I thought my swimming career was over."

The next year was a blur of doctors' offices and medical tests and illnesses, including whooping cough and a broken rib sustained during a violent coughing episode. The first Crohn's treatment she was put on involved a daily regimen of more than a dozen pills, but it was ineffective.

Eighth grade was a nightmare, Baker said. Already thin, she lost more than 10 pounds, prompting her mother to feed her a cheeseburger and a 500-calorie piece of cheesecake each night to try to keep her weight up.

Her health began to stabilize after her treatment was changed to incorporate monthly intravenous infusions that consumed most of two days, including one for recovery. But after a few years, the infusions ceased to be effective, and Baker began a regimen she continues to follow that includes giving herself biweekly injections in the abdomen.

As Baker sought to manage the disease, training through bouts of stomach cramps, nausea and diarrhea, her parents and older sister, Rachel, strained under the weight of her struggles. Kimberley Baker sometimes excused herself to take a shower just so she could release the tears that she held back in her daughter's presence. Rachel, who swims at Washington & Lee University, struggled to understand why the disease had targeted her sister and not her.

Baker's determination sometimes makes her a difficult patient. It was with great reluctance that she agreed to limit her training to one pool practice a day. Her parents, doctors and coaches have all grown exasperated trying to persuade her to back off during training, or to forgo it altogether, when she is experiencing Crohn's flare-ups.

The eight-contestant field in the final (of the 2016 US Olympic Trials) included the 2012 Olympic gold medalist Missy Franklin and Natalie Coughlin, a former world-record holder in the event. Baker set a personal best of 59.29 seconds to finish 27-hundredths of a second behind the winner, Olivia Smoliga.

When Dr. Kappelman, in North Carolina, found out that Baker had made the Olympic team, he said he called his wife and his parents and then stepped outside his office and announced the news "as if an amazing thing had happened to my own child."

http://www.nytimes.com/2016/07/15/sports/olympics/kathleen-baker-crohns-disease-swimming-olympics.html

---
-----
tedbear said:

---

Between Katie's broken neck, Amy's stress fractures and stomach infection, and Kathleen's Crohn's, maybe we should rename the [U]Dream Team[/U] to "Team Perseverance". So proud to have all these ladies attend our beloved University!

---
Yup, really, really incredible how these 3 young women handled themselves in facing these very daunting challenges, truly a testimony to their strength of character and a massive inspiration to all, I reckon!!!
Whilst
Amy
's stress fractures along with
Katie
's neck injury have been the subjects of much discussion here, I for one had no inkling of the struggles
Amy
had to cope with this spring in relation to her abdominal pain - had originally assumed that Bilquist's slight underperformance @ NCAAs (relative to her fab Pac-12s that is), could be explained away by "freshie nerves" at the big dance.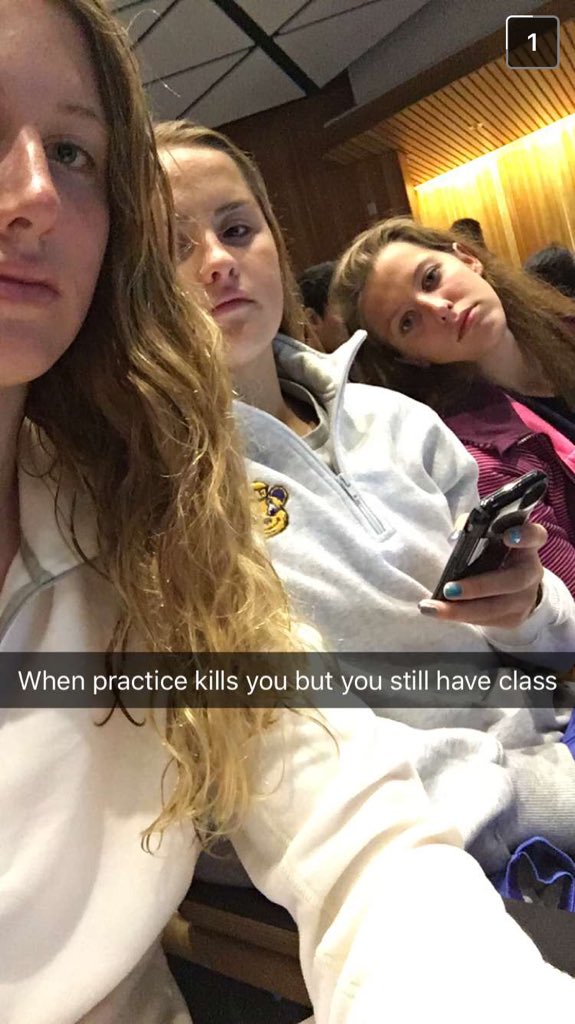 Nor that
Kathleen
has been battling Crohn's for so many years of her young life...
Neither of them had ever talked about these serious ailments on social media or to the press AFAIK - they certainly didn't use them as an excuse or to exploit sympathy in any fashion whatsoever.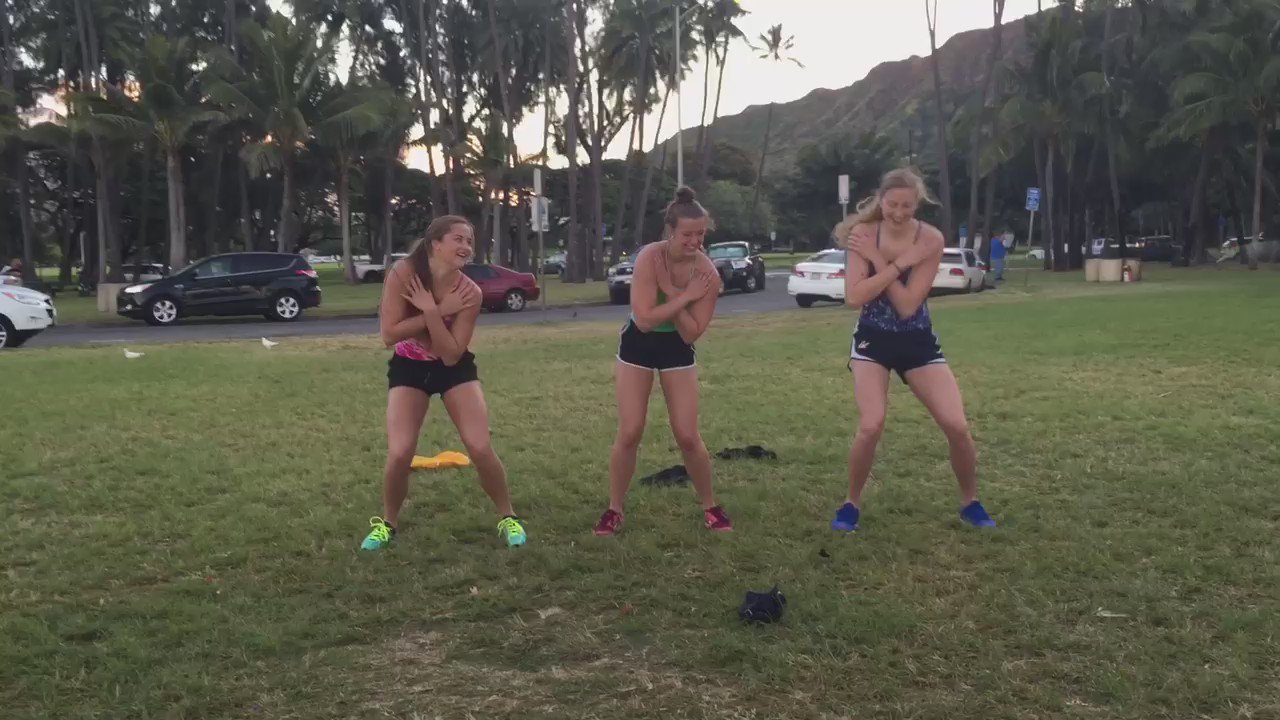 Must-see
video :p =>
https://twitter.com/i/videos/tweet/751929151863468032
:gobears: