SwimSwam said:

---

TOP 20 NCAA SWIMMING RECRUITS IN THE GIRLS HIGH SCHOOL CLASS OF 2019



TOP 10 SWIMMERS FROM THE CLASS OF 2019

1. Isabel Ivey Gator Swim Club F.W. Buchholz High School Gainesville, Florida **Verbally Committed to Cal**

Best Times: 200 free - 1:43.64, 100 free - 47.88, 50 free - 22.43, 200 IM - 1:55.77, 100 back - 52.27, 100 fly - 52.61, 200 fly - 1:56.48, 100 breast - 1:00.99, 400 IM - 4:12.08

Ivey is the definition of do-everything star she is among the best in her class at all four strokes. Her 200 free time from Winter Juniors would have made the NCAA A final, and she's already in scoring territory in the 100 free and 200 IM. Whatever events Ivey ultimately specializes in, she should be a 4-5 relay factor in the NCAA post-season and has the stroke versatility to save a medley relay in several different ways.

---
BearDevil said:

---

The 2019 recruiting class looks pretty good. Izzy will be a star. She's not very tall, but she's nearly as versatile as Baker. Extremely charismatic, so will help recruit future teammates.

---
#1 recruit
Isabel Ivey
signing her
National Letter of Intent
to
Cal
this morning!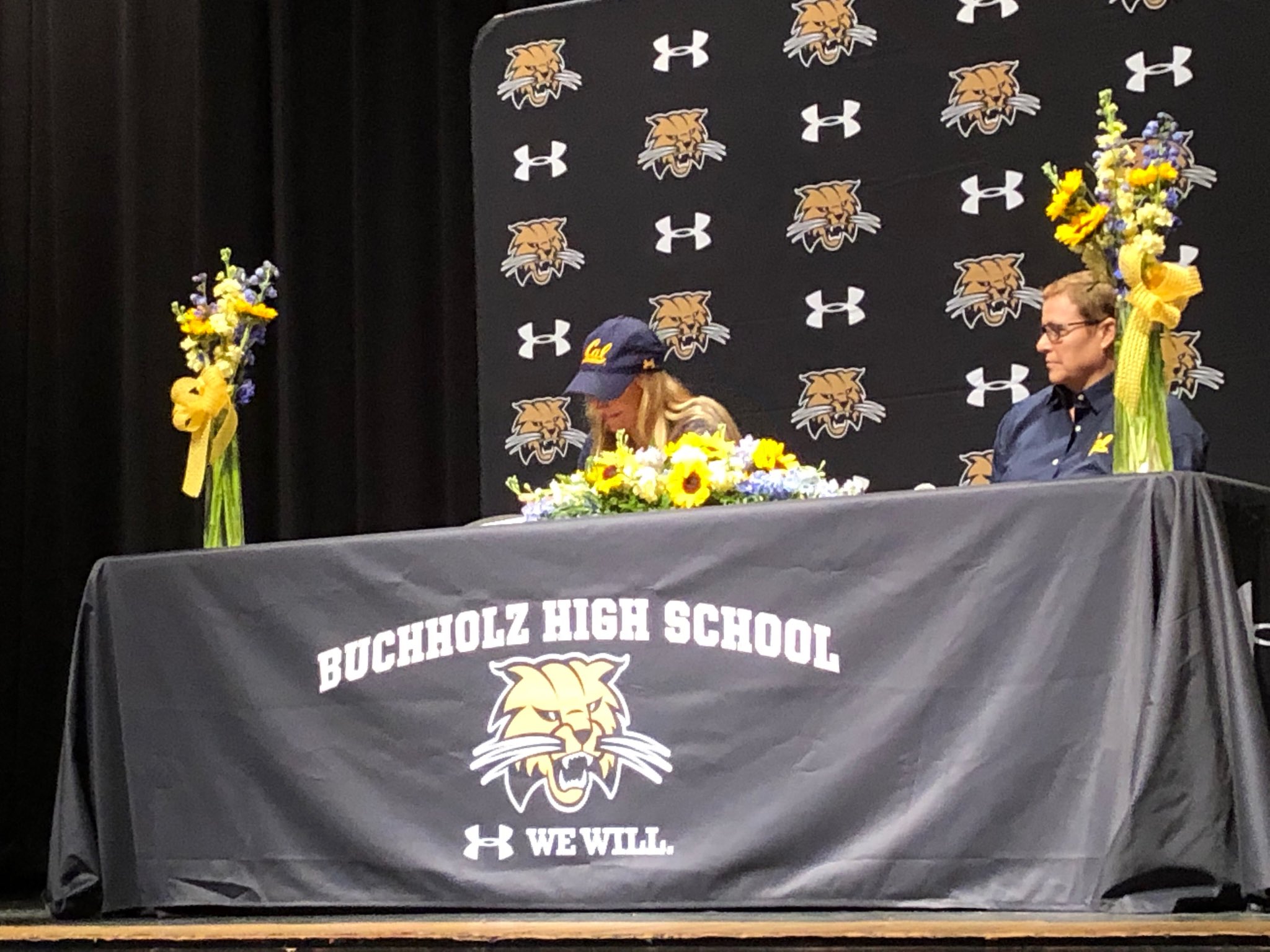 What's particularly intriguing are the mentions from several sources of Izzy
starting @ Cal on 3 Jan 2019
...er, just in time for that coveted mid-winter training trip to Hawaii?
May account for Izzie not having competed @ 2018 Florida HS States last week, though Ivey has re-affirmed that she'll be graduating from Buchholz High.
This would be rather significant news if true, as would give Bears a massive shot in the arm for 2018-2019 NCAAs, considering the uphill battle we're facing with the early loss of
Thleen
(pro), probable absence of
Billy
(stress fractures), froski
Alex
being MIA (moshpit injuries??!
) &
Cassidy
still recovering from her knee issues,
Chenoa
(no longer on the roster), etc.
Anyway will update this post with more Bears NLIs news as they come in - if they haven't already been posted elsewhere...
------
BearDevil said:

---

Emma is a very nice girl from a great family with a lot of upside. Long and lean and hasn't been swimming very long. Expect her to drop a significant amount of sprint time in college.

---
Yorba Linda swimmer Emma
Yorba Linda swimmer
Emma Davidson
, who captured a pair of individual CIF-SS titles in May, signed with NCAA powerhouse
Cal
on Wednesday, National Signing Day for non-football athletes.
------
BearDevil said:

---

Chloe, Ayla, and Sarah are good gets. Teri also added a bunch of distance depth.

---
------
------
http://instagr.am/p/BqOPoYmgl_l
------