Cal Football
The Way Too Early Pac 12 Football Preview
---
Arizona
Pros
+ Grant Gunnell is a promising young QB who posted a solid 9 TD to only 1 INT during his freshman campaign.
+ 9 starters return on offense, including a promising group of RBs and WRs.
+ There's a trio of stud senior LBs to anchor the defense, led by Colin Schooler.
+ A ton of new coaches come onto the staff. Often that'd be a negative but given the last two years less than stellar performance, fresh ideas are needed.
Cons
- This is the Pac-12's weakest coaching staff. From fundamentals to in-game preparation to recruiting, Sumlin has struggled since coming to Arizona.
- Speaking of recruiting, the Wildcats have put together four consecutive classes that have finished at or near the bottom of the Pac-12. Depth is a major issue.
- The Wildcats do not return a single AP12 1st or 2nd team member and only two HM honorees. High-end talent is missing from this unit.
- While the offense should be solid in 2020, the defense finished 2019 among the worst in the nation in total and scoring defense. There's a long way to go on that side of the ball.

---
Arizona State
Pros
+ The Pac-12's 6th rated defense returns nearly intact with their top four tacklers back for 2020.
+ Jayden Daniels is one of the nation's most dynamic young QBs, throwing for almost 3000 yards and running for 350+ during his true freshman campaign
+ Herm Edwards is off to a strong start in Tempe, with back-to-back eight-win seasons
+ Recruiting has seen three very solid classes in a row, with the 2020 class ranked among the nation's top 25
Cons
- The offense loses its top receiver, top running back and four starting offensive lineman. Expect the Devils to struggle to score points at least early in the season
- Two of those offensive losses were 1st team AP12 performers and one was a 2nd team AP12 player leaving ASU searching to find playmakers
- Both the offensive and defensive coordinators are new in Tempe. COVID will make those transitions more difficult
- While much of the defense returns, the Devils lose their top playmaker in the secondary, their top pass-rushing linebacker and their two biggest bodies on the DL.
---
California
Al Seremeno - KLC Photos
Pros
+ The Bears return ten starters on an offense that showed signs of life late in the 2019 season. Chase Garbers at QB and Christopher Brown at RB are the headliners
+ Eight starters return on a veteran defense that will feature seven seniors including a bevy of former AP12 players candidates CB Cam Bynum (2nd team), DT Luc Bequette (HM), ILB Kuony Deng (HM), DE Zeandae Johnson (HM) and OLB Cameron Goode (HM)
+ The program is clearly on the rise getting better in each of Head Coach Justin Wilcox's first three seasons and this will be his deepest and most experienced team to date
+ The schedule is favorable with many of the toughest tilts at home including Oregon, Washington, Utah and Stanford
Cons
- The Bears lost three key defenders with likely NFL futures, including P12 DPOY Evan Weaver, S Ashtyn Davis, and S Jaylinn Hawkins
- While Cal's Offensive Line returns all five starters and all but one of their two deeps, this group has a long ways to go after giving up a Pac 12 worse forty-seven sacks and creating few holes for its running backs in 2019
- Size at NG and DT is a concern without a single-player along the DL over 290lbs on the Spring Roster. One of two true freshmen NGs (both over 300lbs) may be relied on in 2020
- While new OC Bill Musgrave is viewed as an upgrade, the loss of Gerald Alexander in the secondary may be felt with Cal losing two senior safeties
---
Colorado
Pros
+ Nate Landman, the senior 1st Team AP12 linebacker returns to anchor the Buffaloes' defense
+ Colorado has put together solid back-to-back recruiting classes, creating a young depth of talent
+ Alex Fontenot and Jaren Mangham are two very capable RBs that helped Colorado to a top third finish in 2019 in Pac-12 rushing
+ A new Air Raid style offense should ease the introduction of a young QB and a bevy of new WRs
Cons
- The loss of Mel Tucker as their Head Coach is significant as he made positives changes to the culture and recruiting arc of the program
- A new HC and coordinators coming in during COVID is doubly challenging
- Colorado loses their QB, their top three WRs, and four of their top five tacklers on defense
- A tough schedule awaits with road games at Texas A&M, USC, Washington and Stanford
---
Oregon
Pros
+ A top ten national defense in 2019 returns nine starters and welcomes in three Five-star recruits
+ The Ducks have put together back-to-back top ten nationally ranked recruiting classes and are loaded with elite, young talent
+ The schedule is favorable with their toughest opponents - UW, USC, Ohio State and ASU all at home. Cal may well be their toughest road tilt
+ The addition of new OC Joe Moorhead can provide a much-needed dynamism to Oregon's offense
Cons
- There was a lot of staff turnover for the Ducks this offseason with grumblings about a toxic staff culture under HC Mario Cristobal
- The offense loses Justin Herbert, their top two big-play receivers (one being their TE), and four starters along the OL. It will be a young and inexperienced group on that side of the ball
- Breaking in a new QB behind an inexperienced OL is generally not the recipe for success, especially when Ohio State, UW and Cal's defenses are all in the 1st half of the schedule
- How did the 2019 team with a stalwart defense, a first-round pick at QB and the nation's best OL not make the playoff? Mario Cristobal may be the limiting factor in maximizing this team's talent
---
Oregon State
Pros
+ Jonathan Smith has the Beavers program on the rise, finishing with five wins in 2019 and clearly improved play on both sides of the ball
+ The Beavers defense is poised for big improvement with the DL getting an Auburn transfer at DT and a former HS All American at DE
+ The OSU LB unit is among the conference's very best with senior Hamilcar Rashed and frosh All American Omar Speights anchoring the group
+ The Beavers return a healthy Jermar Jefferson at RB and welcome an electric WR in Florida State transfer Tre'Shaun Harrison - both have NFL potential
Cons
- This remains a roster with far better front line talent than quality depth. Injuries will play a big role in how 2020 plays out for the Beavers.
- Replacing Jake Luton at QB raises questions, though Tristan Gebbia was a top 10 national recruit and outplayed Justin Herbert in last year's Civil War
- Oregon State hasn't been able to stop the run for the past three seasons. Finding quality depth along the Defensive Line is critical
- The schedule is not easy. The Beavers draw road games against ASU and Utah to go with the rough Pac-12 North slate. The season opener at Oklahoma State will be tough
---
Stanford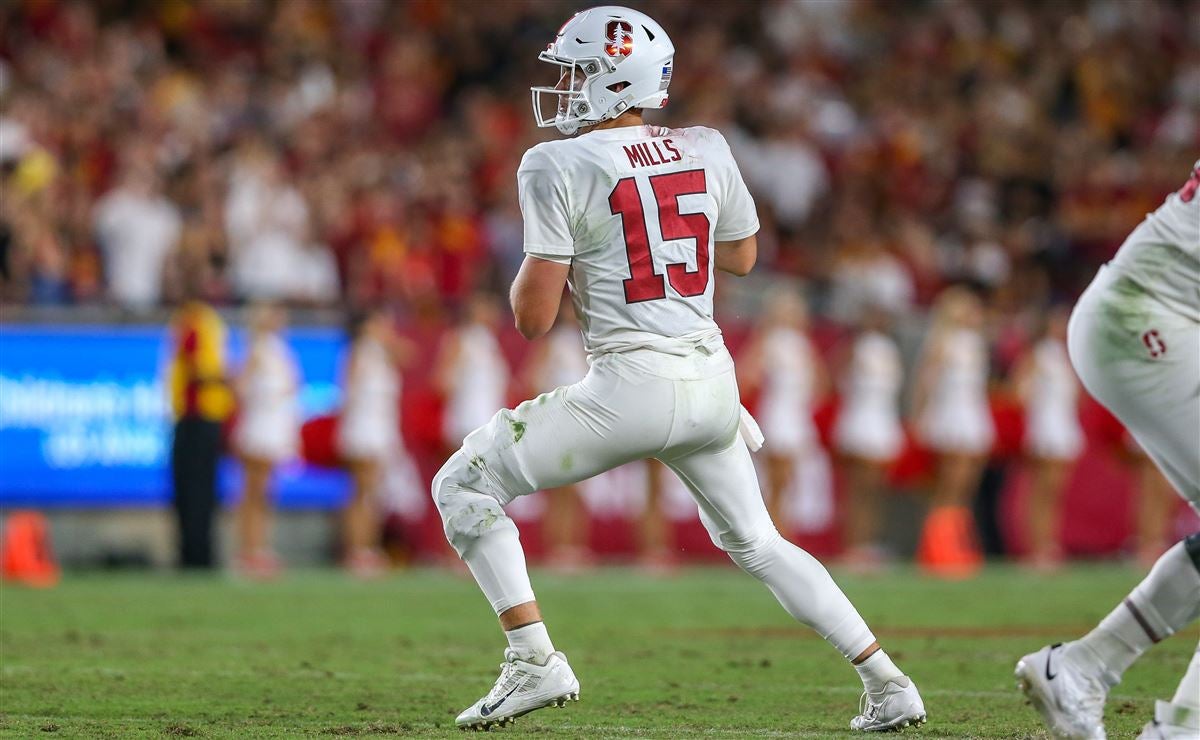 Pros
+ After watching its offense sputter for most of the past two seasons, the Cardinal is loaded with talent across the board on that side of the ball
+ QB Davis Mills has all the tools to be the next top NFL draft pick from Palo Alto. The junior posted big numbers in relief of the injured K.J. Costello in 2019
+ Stanford has pillars at all three levels of the defense with All American CB Paulson Adebo, DE Thomas Booker and LB Gabe Reid
+ A recent stretch of top recruiting classes makes for a talented roster. Injuries forced the Cardinal to play a lot of that youth in 2019. That will pay off in 2020 as those talented youngsters gained meaningful experience
Cons
- David Shaw's program appears to be in a clear decline with a .500 in conference mark over the past two seasons, following the exodus of top assistants in 2016 and 2017
- Stanford has already had ten players transfer out of the program this offseason, five of whom were starters in 2019. Culturally, something has gone wrong in Palo Alto
- After finishing a dismal 10th in run defense in the Pac-12, Stanford loses two of their three DL starters at a position where the depth of talent is a major question mark
- The Stanford Offensive Line has not been right for two seasons and is seeing two starters transfer out. Coaching issues are likely the root cause of what was previously the core identity of this program.
---
UCLA
Pros
+ This will be the deepest and most talented team in the Chip Kelly era at UCLA. A lot of returning talent at QB, WR, OL and in the secondary on defense
+ The Offensive Line which has been the Achilles heel of the team for the last two years could be the most improved unit with three returning starters and some talent shifting from the DL to the OL
+ Dorian Thompson-Robinson took a step forward as a sophomore and is poised for a breakout year. Especially given their top three WRs all return
+ Their schedule includes three very winnable non-conference games and only two challenging Pac-12 road games (at ASU and Cal)
Cons
- The defense under Kelly has been abysmal finishing 11th in the Pac-12 in both 2018 and 2019. Jerry Azzinaro will continue as their Defensive Coordinator in his third season
- The Bruins lost three of their top four tacklers as well as early NFL entry DB Darnay Holmes, who was arguably their best all-around defender in 2019
- Recruiting has been at the very bottom of the Pac-12 over the past two years, meaning there's not nearly the type of depth one expects from a UCLA football team
- There's not a clear replacement for bell-weather RB Joshua Kelly. Felton is more of a scatback/slot receiver hybrid and not an every-down back
---
USC
Pros
+ The Trojans return more production on both sides of the ball than perhaps any team in the country. A very talented group of youngsters got baptisms by fire in 2019 and are poised to breakout in 2020 as returning veterans
+ The new Air Raid offense proved to be lethal, leading the Pac-12 in yards per play. Sophomore Kedon Slovis was a revelation at QB and he has a WR corps that would be the envy of several NFL teams
+ The USC defense finished a respectable 5th in the Pac-12 and returns almost every significant player on the two deeps. Fresh leadership from new DC Todd Orlando will likely be a boost
+ USC rivals Oregon and Washington in NFL level talent on the roster and has dynamic playmakers at QB, RB, WR, TE and all three levels of the defense
Cons
- Clay Helton barely hung onto his job after the 2019 season and his future tenure in South Central LA is now measured in games not even seasons. That's rarely an ingredient in a successful team
- This program has underperformed its talent under Helton consistently over the past three seasons. It is unclear whether they can ever realize their potential under the current leadership
- USC was not able to establish a solid ground game on offense last year. If the OL can't physically dominate upfront, the Trojans will be one-dimensional on offense
- The Trojans lack ideal depth on the Defensive Line. An injury or two along the DL could be the difference between seven and ten wins in 2020
---
Utah
Pros
+ Kyle Whittingham has created a stable and consistent winning program going 28-17 in the Pac-12 over the past five seasons. Three of those sported 9+ win totals
+ Utah's Offensive Line is poised for big improvement with four returning starters and nine of their top eleven coming back in 2020
+ Jake Bentley should step right in at QB after posting 55 TDs and 7500 yards of passing at South Carolina. He'll have big-play WRs Britain Covey and Bryan Thompson as well as TE Brant Kuithe to support him.
+ The Utes have been recruiting at a very high clip, sprinkling in a handful of prep stars with a bevy of grown men returning from Mission.
Cons
- The Utes defense has been gutted with the loss of nine starters and all five of their top players in the secondary. The latter may prove to be the Achilles heel for Utah in 2020
- Utah had a total of eight 1st or 2nd team All Pac-12 players in 2019. Only TE Brant Kuithe returns. That is a lot of star power to replace
- The blowout losses to Oregon and then Texas in their bowl game to end 2019 are likely to have lingering effects on the program's psyche
- Depth at QB and in the defensive backfield may tell the story for Utah in 2020. Injuries at either of those positions could be tough to overcome
---
Washington
Pros
+ The Pac-12's 3rd best defense in 2019 returns almost everyone and has young talent to shore up some holes at ILB and DE
+ UW returns four 1st or 2nd team All Pac-12 defenders, the most of any team in the conference so high-end defensive talent is not a problem
+ The Dawgs have been the top recruiting program in the Pac-12 over the last five years and there's a tremendous depth of elite talent on the roster
+ The offense has more playmakers going into 2020 than it did a year ago. Terrell Bynum and Puka Nacua will be stars at WR, as will Richard Newton at RB
Cons
- The QB room doesn't have any obvious good options. Jacob Sirmon hasn't looked great in limited action, Ethan Garbers is a true freshman and Dylan Morris could likely use another year before challenging for the starter's role
- The offensive line will require an overhaul and it's the one position group where UW doesn't have great depth. Three new starters will be needed including replacements for two AP12 performers
- Replacing Chris Petersen is the biggest challenge this program faces. Jimmy Lake is a proven DC and recruiter but what happens to the underlying culture and the offense?
- The schedule is flat out brutal with the opener vs. Michigan and road games vs. USC, Utah, Cal, and Oregon
---
Washington State
Pros
+ The Cougars found the perfect replacement to keep their high powered offense clicking with their new Head Coach Nick Rolovich
+ Rolovich will inherit a strong set of QBs, a top-flight RB, and three starters back on the OL, including AP12 2nd team OT Abe Lucas
+ WSU's defense should rebound from a tough 2019 with 9 returning starters and 11 of their top 12 tacklers back for 2020
+ RB Max Borghi might be the Pac-12's top returning back after putting up 1400 total yards from scrimmage and a 6.4 yards per carry average on the ground in 2019
Cons
- The Cougars lost their top three receivers from 2019, accounting for 210+ catches and nearly 3000 yards
- WSU's defense has a long way to go after finishing dead last in the Pac-12 in 2019. They were particularly abysmal against the pass, finishing 120th nationally
- Mike Leach was a magician in plugging in new QBs and that was true again last year as Anthony Gordon earned All Pac-12 2nd team honors. Can Rolovich do the same?
- Depth of talent will be a problem as WSU routinely finishes at or near the bottom of the Pac-12's recruiting rankings
Never miss the latest news from Bear Insider!
Join our free email list