* Day 2 Finals * - just a quick update on the run
------
-
Murph
lowers his Championship record of 52.19 from the morning heats, to a scintillating 51.94 for the
100m Back
gold with a dominant turn & back half. Just 0.09 sec off his World Record!
------
-
Thleen
fought valiantly to secure a bronze medal in the tightly-contested women's race with her 58.83, 0.22 sec off former WR holder Kylie Masse (CAN)'s winning time.
Not to make any excuses lol, but the abbreviated period between Nationals & Pan Pacs this year, along with Team USA's late arrival in Japan (jet-lag etc), appears to have possibly impacted quite a few of the American swimmers with regards to their slower swims here relative to Irvine...imo.
------
-
Seli
led off Team USA with a 1:46.75 to help his country to a gold medal in the
4x200m Free relay
.
-
Nathan
's 48.32 is good enough for runner up in the B final of the
100m Free
final, but unfortunately not fast enough to qualify for an individual spot in this event for Worlds next year. He'll get another opportunity in the
50m Free
on the last day of the competition.
------
KATIE MCLAUGHLIN FOLLOWS 200 FREE BEST TIME WITH 1:55.47 RELAY SPLIT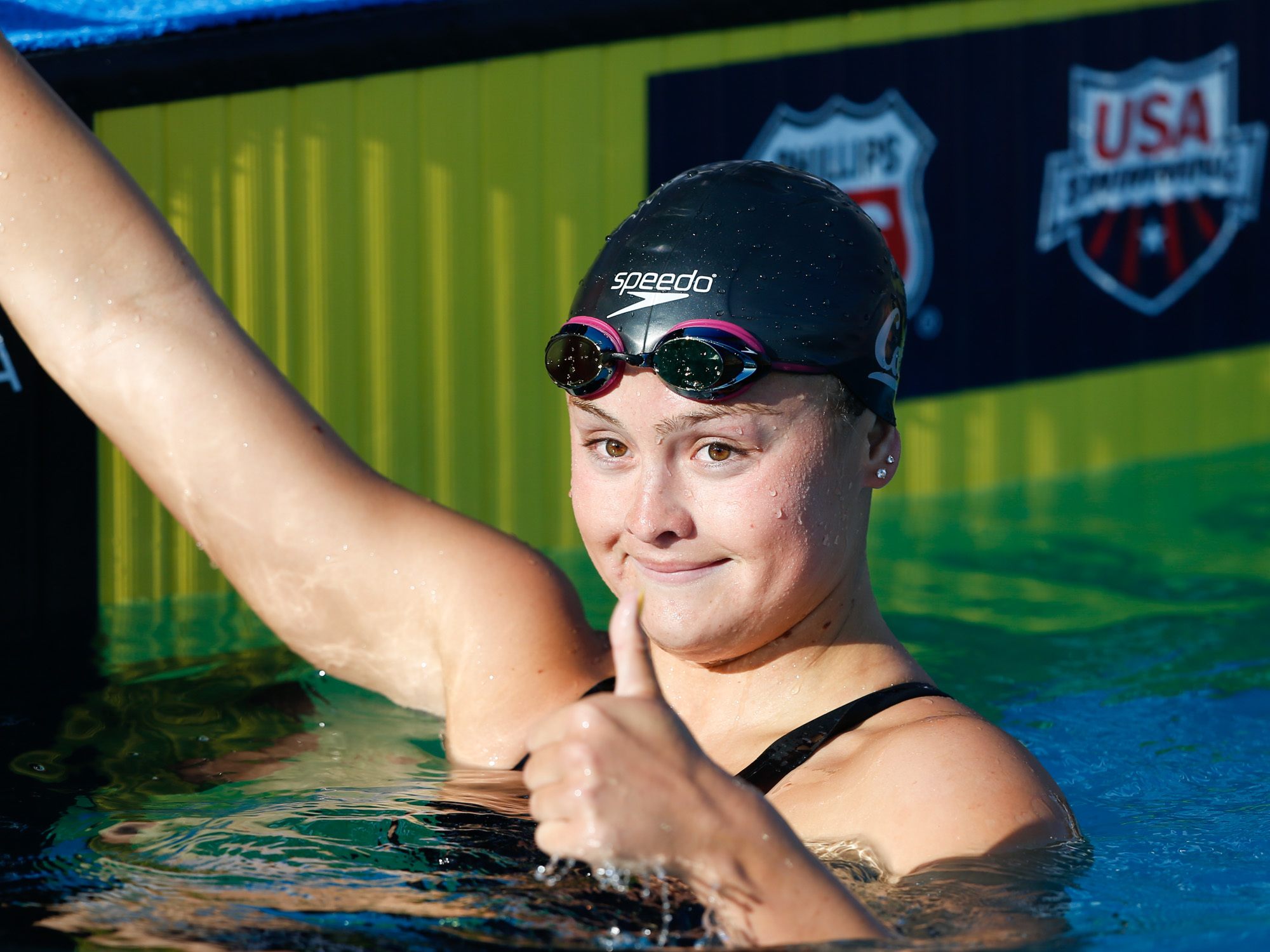 Katie McLaughlin uncorked a very impressive 1:55.47 relay split for the Americans on the 800 free relay in Tokyo. Archive photo via Tim Binning/
TheSwimPictures.com
After setting a personal best in the 200 free preliminaries on day 1 of the Pan Pacific Championships in 1:56.88, American
Katie McLaughlin
followed up with a 1:55.47 relay split on the American 800 free relay on day 2.
Prior to this year, the 21-year-old rising senior at Cal had her best season in 2015, when she placed 6th at the World Championships in the 200 fly and split 1:56.92 on the victorious American 800 free relay.
Earlier that season, McLaughlin swam a lifetime best of 1:57.55 in the 200 free. She approached that last month at U.S. Nationals, winning the consolation final in 1:58.20, and then finally erased her PB on Wednesday with her 1:56.88 in the heats. That swim got her into the B-final, where she won in 1:57.34, and cemented her spot on the 800 free relay.
Nearly a full second and a half under her flat start best, McLaughlin's 1:55.47 split stood up as the 4th-fastest flying leg in the field (Ariarne Titmus led off in 1:55.27) behind only individual medalists Taylor Ruck (1:54.08), Rikako Ikee (1:54.69) and Katie Ledecky (1:53.84).
Despite the quick splits from McLaughlin and Ledecky, Allison Schmitt's 1:58.62 lead-off put them in a hole they couldn't quite dig themselves out of, as
the Aussies broke the Commonwealth Record
and won gold in 7:44.12 with the Americans back in 7:44.37 for
silver
.
McLaughlin also recorded a personal best in the 100 freestyle during day 2 prelims, clocking 54.14 to narrowly miss a spot in the 'B' heat as the 5th fastest American.
Based on what we've seen so far in Tokyo, McLaughlin will lock up her spot on the World Championship team in the
100 fly
, and will be a very valuable asset next summer on the relay after that 1:55.47 split.
------